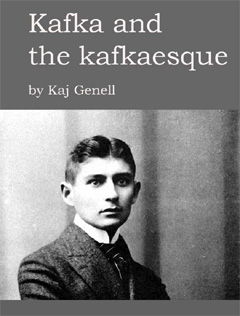 ( Click on picture to get to Amazon ! )
CONTENT OF my book
Kafka and the kafkaesque:

I. Preface. Franz Kafka – a unique writer without successors.
Part I.
A Small Biographical sketch.

Chapter 1. Kafka and Prague.
Chapter 2. Literary tradition & influences upon FK.
a.) German romantic irony and saga
- "Kunstmärchen":
b.) Gustave Flaubert.
c.) Robert Walser.


Part II.

On Kafka´s literary technique
and on the structure of his works.

Chapter 3.. Kafka and writing. A study in trance.
Chapter 4. Symbol, metaphor, allegory, parable.
Chapter 5. Origins of the "kafka effect"!
Chapter 6. Trying to bring some answers.
Chapter 7. Freedom and transcendence.
Chapter 8. An accomplished desire.

finis

---------------------------------------

You are welcome to support my ongoing Kafka research by donating : paypal.me/kajgenell
Any amount is much appreciated.
---------------------------------------